Business Systems Support
Our services include Project Controls Software installation, hosting, training, implementation and troubleshooting. These include standard products ex., Primavera EPPM, SAP and inhouse solutions such as IntelPM and Schedule Auditor in addition to customized ones to suit customer's needs.
Please see below the list of software solutions and support we offer –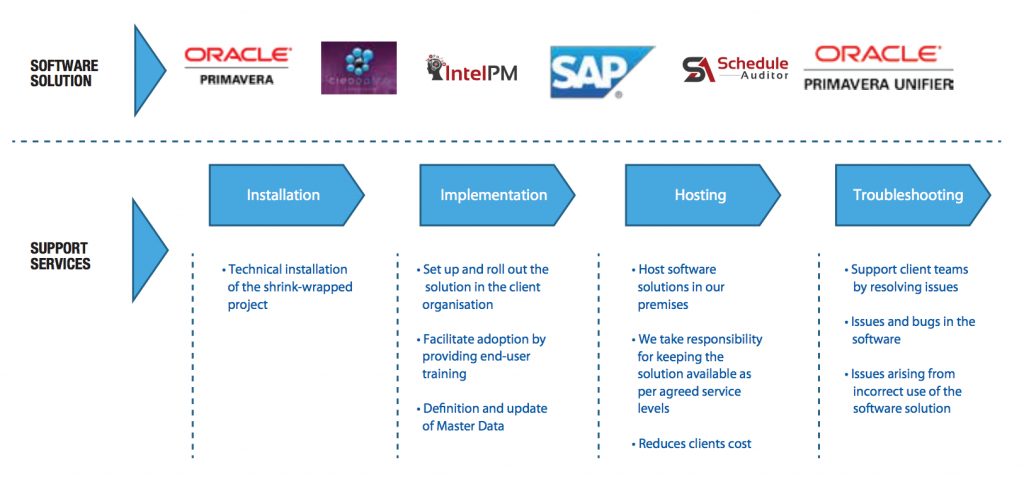 ●
IntelPM

At Projcon, we understand the need for businesses to have solid, reliable data. We are all about making real time data available. Our customers' needs have driven our development team to create IntelPM that is unique to the market and make accurate data collection possible. IntelPM provide customers with new and innovative ways to discover and visualize critical data to produce insightful and actionable facts for better decision making. And all of this can be done in a fraction of the time and cost it normally takes. IntelPM as a service (SaaS) platform and gives you real time, accurate and critical Project Analytics such as following at your fingertips.
    • Milestone Reporting – Strategic, Integrated, Interface & Tactical
    • EVM – Cost & Schedule Performance (CPI & SPI – Trend & Scatter Plot)
    • Change Management – Baseline Comparison, Trend Report, Programme Level Resource Requirements shift & Impact on Milestones, Compensation Events and its associated drivers
    • Risk – RAID (Including Risk Register)
    • Resource Management/Forecasting –Forecasting based on Performance • KPI Scoring – Soft and Hard KPI's including Spider Chart
    • Data Quality Report
   • Cost Reallocation & Progress Rollback.
● How Does It Work?
   • Integrate – Link together any line of business on premise system or cloud system.
   • Organize – Translate, merge and sync data between multiple systems.
   • Analyze – Get better insight from your data and convert it to intelligent action. Analytics can be provided in any format including updated systems, timely notifications to personnel,    dashboards, reports, and much more.
Using DCMA 14 points assessment, Schedule Auditor automatically assesses the quality and robustness of Primavera and MS Project schedules, saving precious hours that can be better used to manage projects. Better yet, SA finds often-overlooked schedule errors most PMs wouldn't think to look for, all while maintaining the integrity of schedule data.
● 
Integrated Project Controls System (IPCS)
IPCS enables businesses of any size and industry to create their own project control department, allowing them to manage projects, programmes or portfolios on schedule and on budget. Pre-programmed with numerous scenarios, it enables proactive reaction to critical issues, minimising the risk of delay and overspend. It is incredibly user-friendly and its interactive dashboard makes it easy to inform key stakeholders of progress, while customisable reporting provides a visual understanding of project progress. It is also optimised for mobile devices, allowing you to access your data anytime, anywhere. IPCS also guarantees that you're legally covered. Most importantly, it provides an audit trail, proving compliance with regulations and requirements while keeping your data secure. Finally, our experienced team provides streamlined guidance and support from start to finish, ensuring you get exactly what you need from this unique platform
Basic IPCS subscription includes:
• Primavera P6 Access
• Cost integration with ETL
• Project dashboard
• Portfolio/programme dashboard
• Project controls process maps
• Data warehouse
• Earned value and schedule reports
●
Other Systems support
Our in-house IT team has expertise to build customise/bespoke system solutions to suit our client needs. This includes but not limited to creating plug ins for various files, schedule quality and assessment, custom dashboards etc.
We also conduct independent review of Project Controls software/tools assisting vendors in enhancing the capability of their products. Please contact us to find out the reviews we have performed till date.