Primavera P6 : Activity Usage Profile
Primavera P6
Primavera P6 Activity Usage Profile Overview
The Activity Usage Profile displays:
Primavera P6 provides many tools enabling you to effectively analyze and manage your projects. This Primavera P6 Training Tutorial demonstrate the Activity Usage Profile for displaying cost or unit information for activities in your opened projects over time according to the timescale that you specify.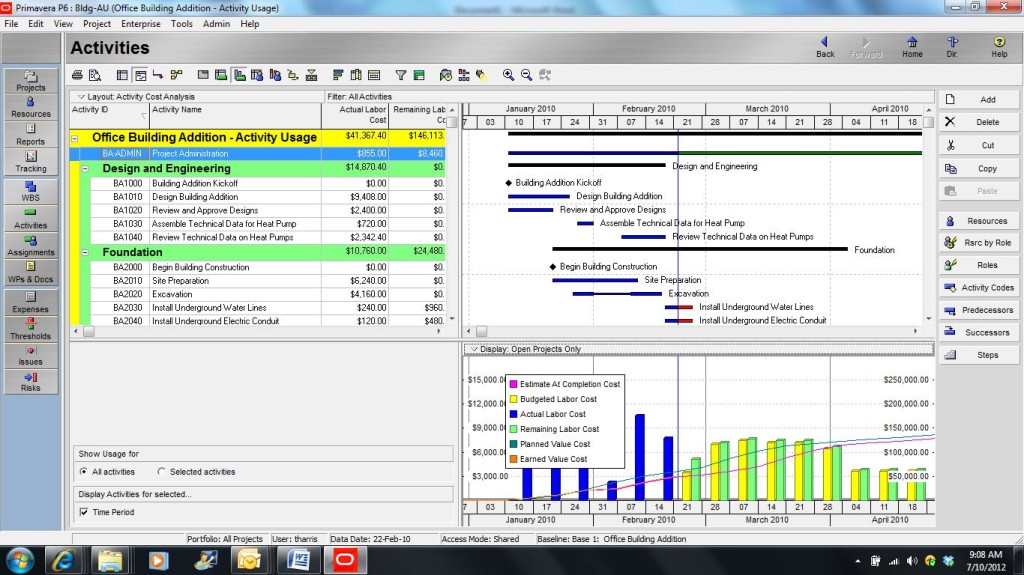 labor resources
non-labor resources
materials
expense costs
labor and non-labor units 
This information is allocated to the project's activities over time based upon your selected timescale. The costs and units allocated to activities for each period in your timescale are displayed as vertical bars. You can also display curves representing cumulative costs or units over time.
Navigating the Activity Usage Profile
The Activity Usage Profile helps you to investigate costs and units associated with projects. For example, the Activity Usage Profile will display actual labor costs incurred for each period on the timescale. You can use the profile to identify which activities on your schedule contributed to those actual costs during that time-period. You can also select specific activities to identify the costs and units associated with those items. The profile is particularly useful when analyzing remaining or future work to be performed as you can quickly identify if/when activities might deviate from the baseline or budget so that you can take corrective action.
The Primavera P6 Activity Usage Profile can be customized (see Activity Usage Profile Options below) to include:
Baseline
Budgeted
Actual
Remaining Early
Remaining Late Units and Cost
Earned Value Curves such as Planned Value, Earned Value, and Estimate at Completion can also be displayed. Filters can be applied to the Activity Usage Profile enabling users to focus on selected activities or specific time-periods facilitating better analysis and management of your projects.
Users can also change the timescale, customize the bars and profile background, and save the changes to the profile as part of a standard layout enabling other users to utilize the layout across their projects.
Reader Interactions
This site uses Akismet to reduce spam. Learn how your comment data is processed.